A Watchful Eye over Your Shipments
There are multiple challenges associated with tracking shipments. To overcome them, the industry requires timely and accurate information over the status of their shipments. IQAX's innovative shipment tracking solutions allow ocean shippers to respond quickly to disruptions throughout the shipping cycle and communicate efficiently with stakeholders and customers to mitigate their impact.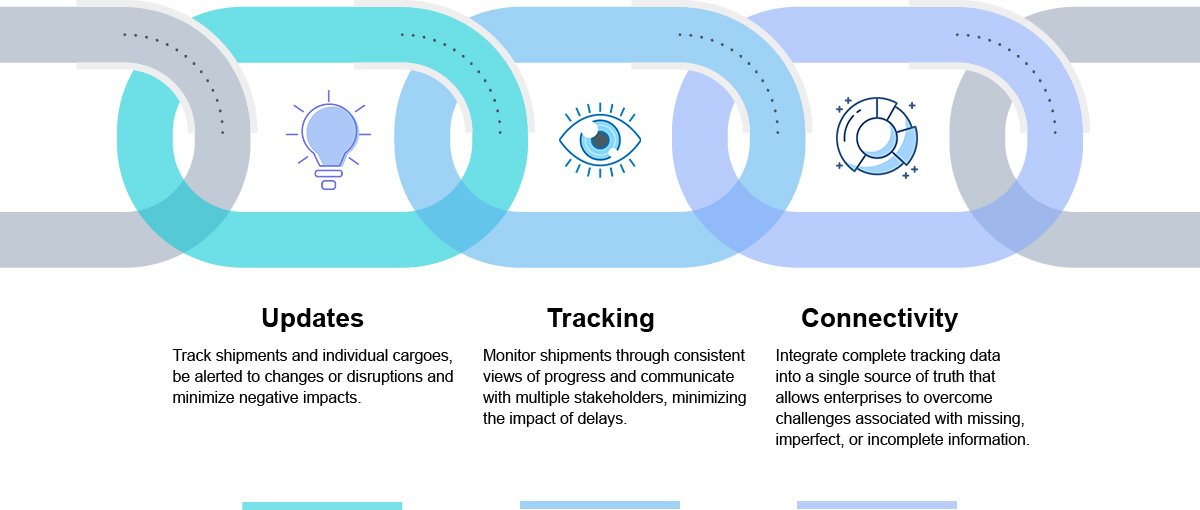 Together, these solutions can help stakeholders overcome the challenge of accessing full visibility into shipments and maintaining quality of service. Providing high fidelity visibility to end customers can be a high-value-added service that improves the competitiveness of shippers.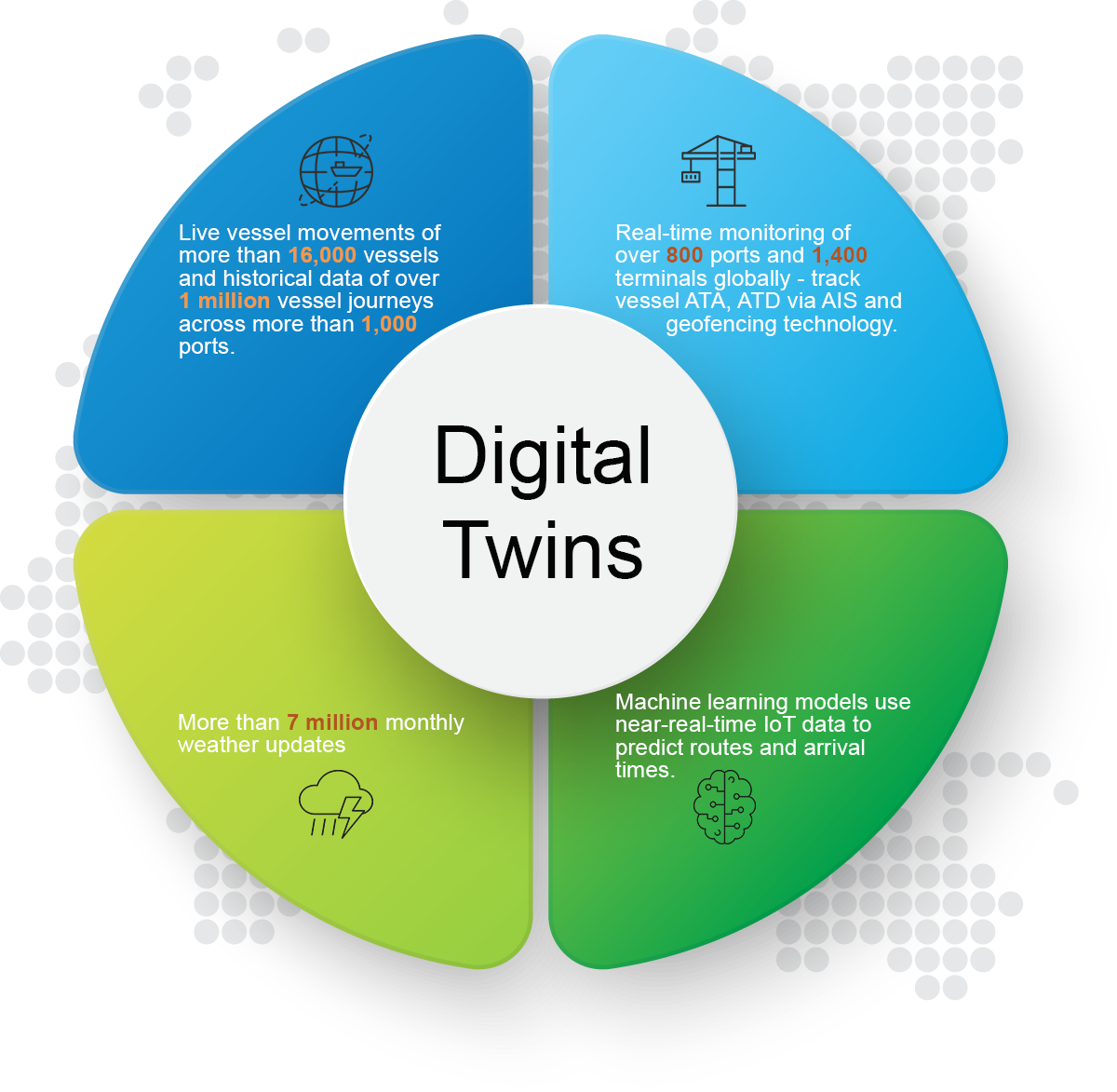 Visibility is Strength
IQAX has developed versatile and powerful solutions to help shippers and their customers gain much greater visibility into their shipments and understand where their cargo is throughout the shipping cycle.
IQAX shipment tracking solutions provide users with data from multiple channels while a powerful digital twin fills in any data gaps, increasing visibility, improving operational efficiency, and helping you serve your customers better.
IQAX uses an award-winning digital twin platform that brings together data from vessel IoT with schedules, container, and shipment information to deliver live status information. It does this by creating a digital replica of real-life situations and tapping AI and the IoT and to help eliminate gaps in data. Its sophisticated engine continuously harmonizes data with enriched information to correct and fill shipment visibility gaps through the shipment cycle.

Take Control of Your Shipments with Predictive Insights
Proactively manage potential disruptions and work with your carriers to make corrections, implement contingency plans and communicate with customers.

Discover the context of delays to understand disruptions and determine how best to respond and analyze them to improve future performance.

Manage unforeseen events with predictive ETDs and ETAs to access more accurate departure and arrival times to strengthen planning.

Reduce Costs by Improving Responsiveness to Disruptions
Manage downstream logistics with a bird's eye view of your shipments to save time by accessing multiple data sources through a single source of truth for your shipments.

Monitor transit times and dwell times to quickly prioritize and drill down on the details of carriers, ports and shipments that need immediate attention.

Focus on your most critical shipments that could have costly impacts if delayed by accessing multi-dimensional views and analytics of your shipments.

Streamline Operations with Enhanced Collaboration
Quickly identify, investigate and communicate shipment disruptions for teams to save time determining cargo status and avoid repeatedly investigating delays.

Improve customer service with comprehensive information and quick responsiveness for customer-facing teams to access directly from the platform.

Analyze carrier performance to analyze delays and support discussions and negotiations with carriers.
Tracking Solutions to Power Your Business
Continuous shipment updates from multiple data sources can be hard to combine and reconcile, yet it is critical for parties in the supply chain to know the latest shipment status to ensure cargo is delivered on time and performance is optimized. Data from service providers is often subject to problems such as incorrect timestamps, gaps, and long latency. Incorrect information can lead to incorrect decisions and result in higher costs.
IQAX shipment tracking solutions can generate substantial benefits for shippers and other logistics operations.
IQAX TrackIt is a real-time ocean shipment visibility platform for shippers to visualize and gain insights about their cargo in transit. Our most comprehensive shipment tracking solution, IQAX TrackIt requires no development effort by users and generates substantial benefits instantly.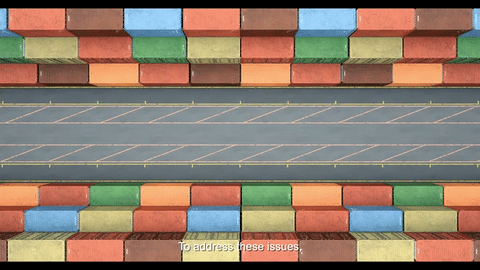 Elevate Your Supply Chain Operations
---
Understand Context
IQAX TrackIt allows you to proactively manage potential risks with earlier notice of disruptions to shipping routes and schedules, allowing you to work with your carriers to make corrections, implement contingency plans and communicate with customers.

The innovative solution helps you understand the context of delays and disruptions to determine how best to respond and analyze them to improve future performance.
Holistic View of Your Shipments
IQAX TrackIt makes it possible for shippers to manage downstream logistics with a bird's eye view of shipment data and saves time by accessing multiple data sources through a single source of truth for your shipments.

The easy-to-implement cloud solution that requires minimal IT support allows you to focus on critical shipments that could have costly impacts if delayed by accessing multi-dimensional views and analytics of your shipments.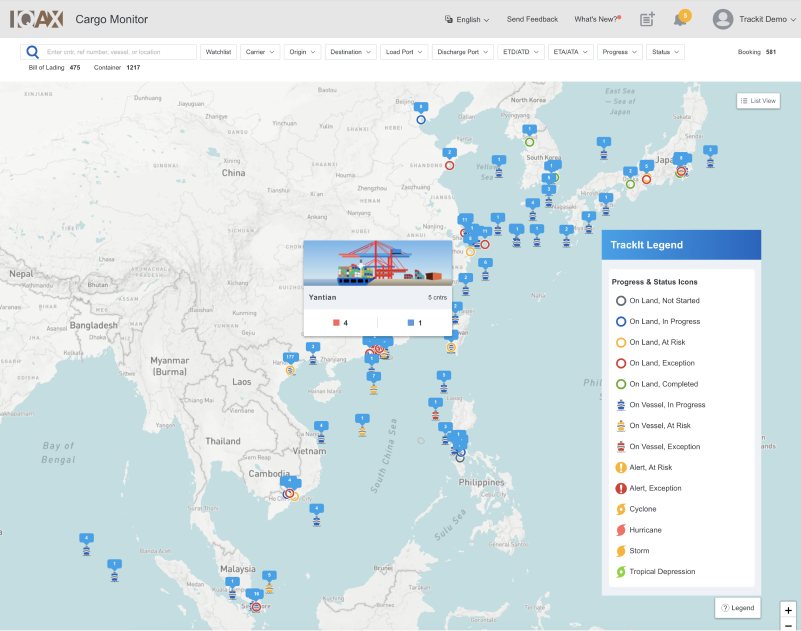 Improve Collaboration and Save Time
Updated data on shipment progress allow you to quickly identify, investigate, and add comments to shipment disruptions for teams to save time determining the status of shipments and avoid repeatedly investigating delays.

The ability to review carrier performance to support discussions and negotiations with customers and carriers.

Empower Your Team with Predictive Visibility
Display a unified view of your shipments, identify potential delays, view predictive ETDs and ETAs on a map and in a calendar view to improve planning and stay one step ahead of your shipments.

Identify and catch delays earlier and avoiding expensive detention and demurrage charges, chargebacks, lost sales, or factory waiting times.

Start each day with a bird's eye view of your shipments, analyze potential delays, and work with your colleagues to mitigate risks.

Visualize your shipments through an intelligent platform, removing the detective work to optimize performance.

Easy-to-implement solution without the need of significant technical capabilities.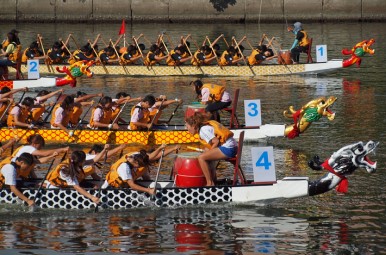 On-time and Transit Time Analysis
Visualize monthly trends and severity of delays to see your overall performance.

Identify the port pairs and carriers that need the most improvement to find alternate routes and carriers.

Analyze transit time performance trends for your past shipments to improve planning.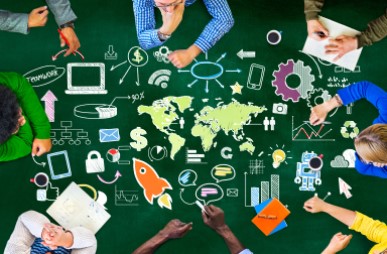 Effective access to insights
 
Access to the IQAX TrackIt API for intelligent shipment visibility.

More effective analysis and access to insights for business-side users.

Streamlined integration with systems and apps like Microsoft Power BI.
Get Complete Visibility Into Your Shipments
---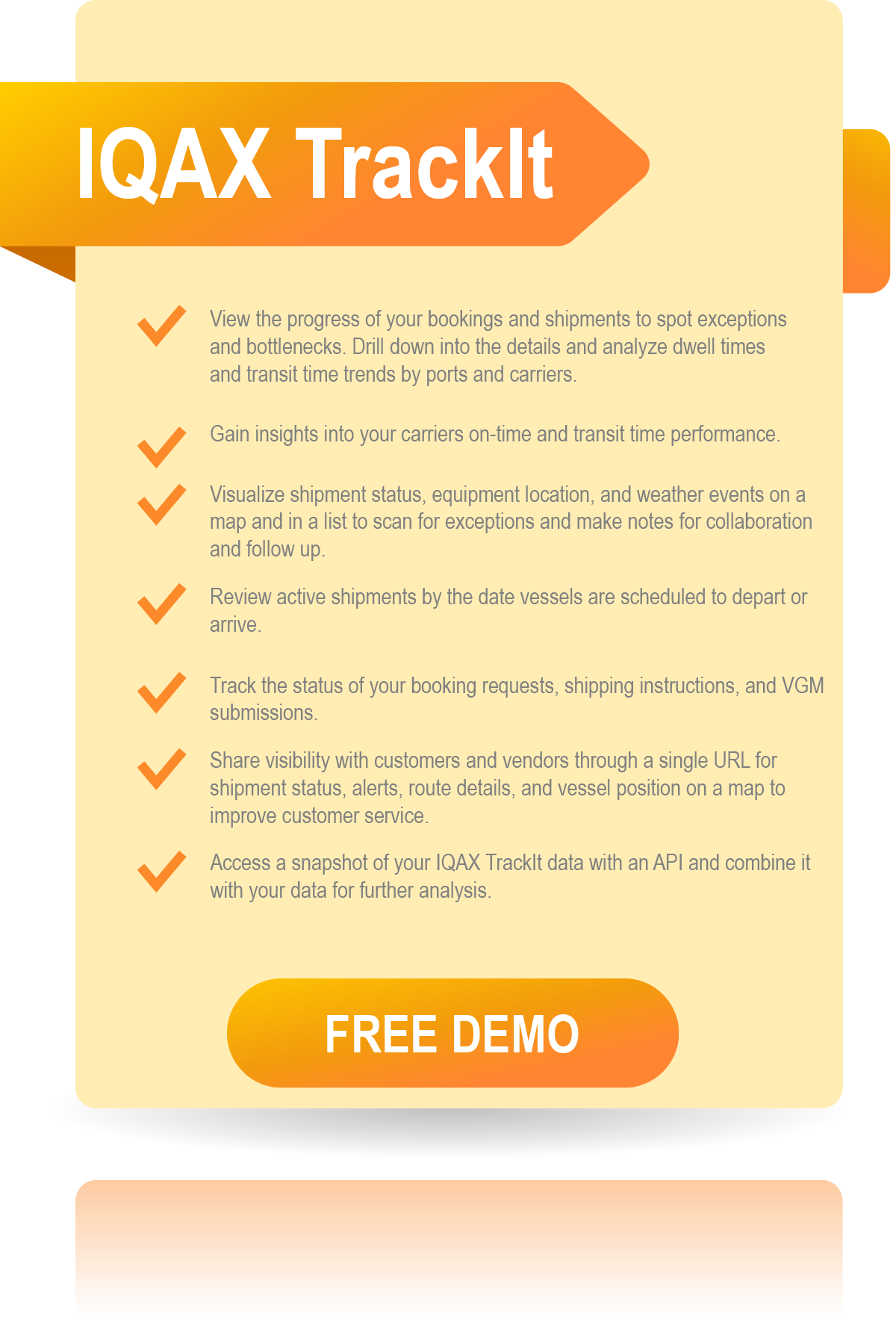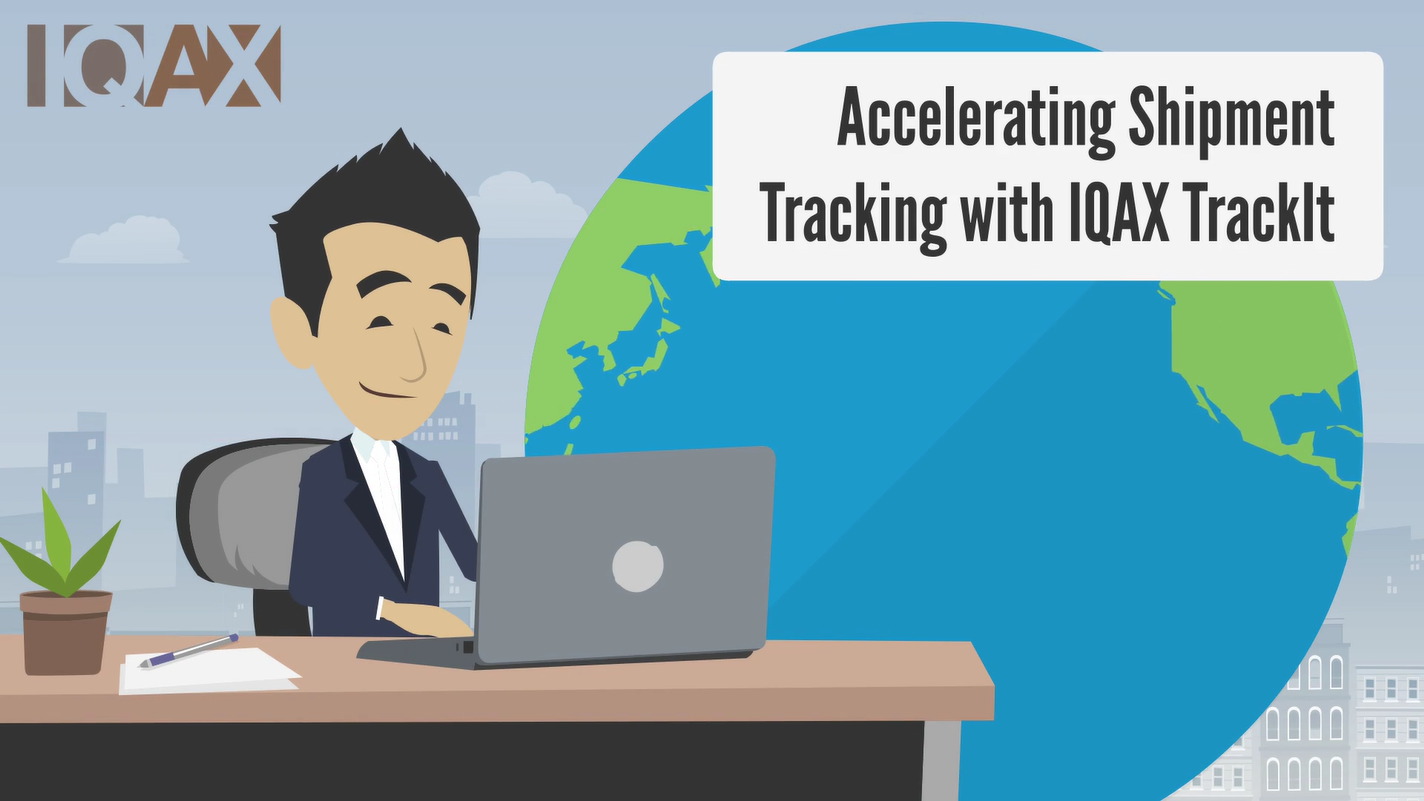 Accelerate Shipment Tracking
A large auto parts exporter uses IQAX TrackIt to look up shipment status faster for customers and gain insights about exceptions earlier than ever before.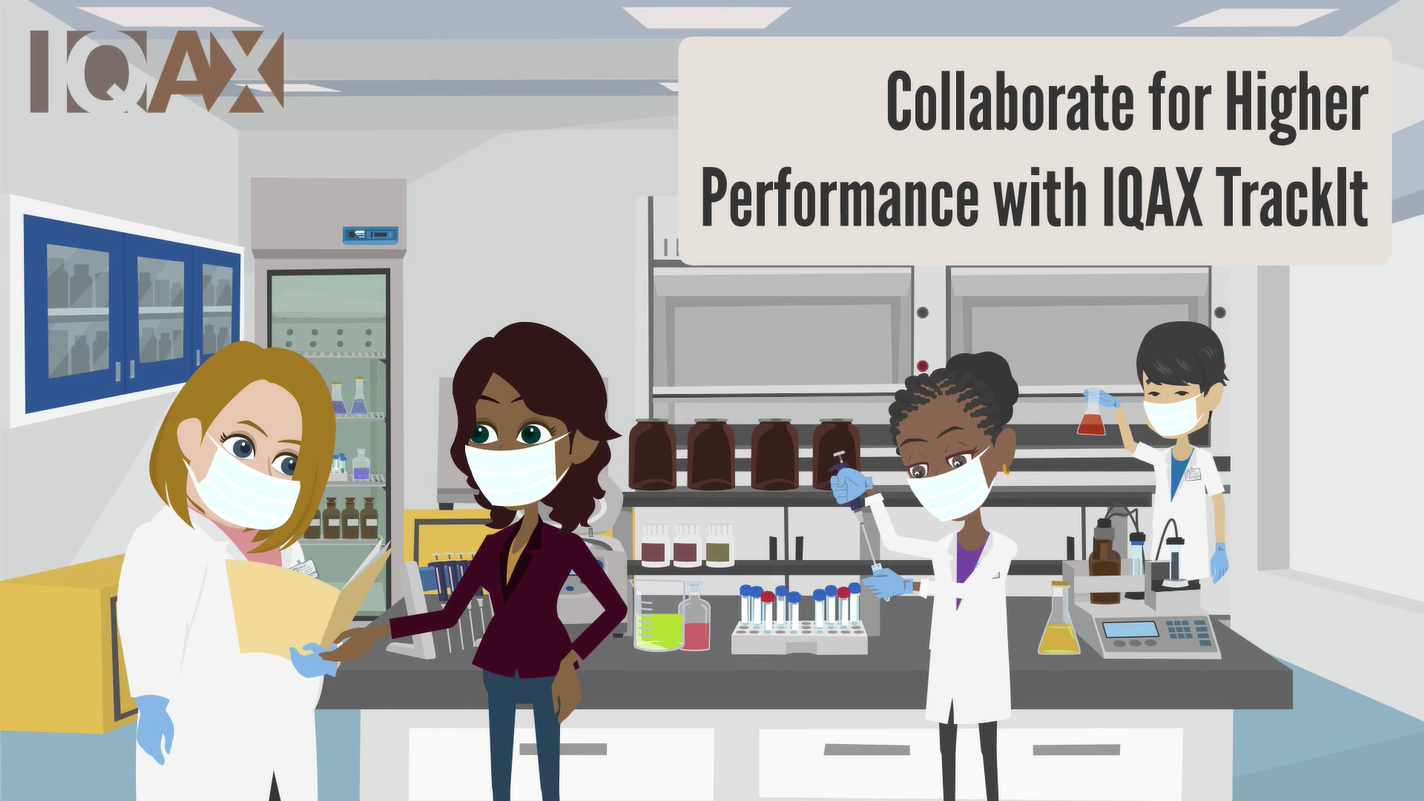 Collaborate for Higher Performance
A chemicals exporter turns to IQAX TrackIt for their global teams to access the same view of their shipments to improve efficiencies and service discussions with carriers.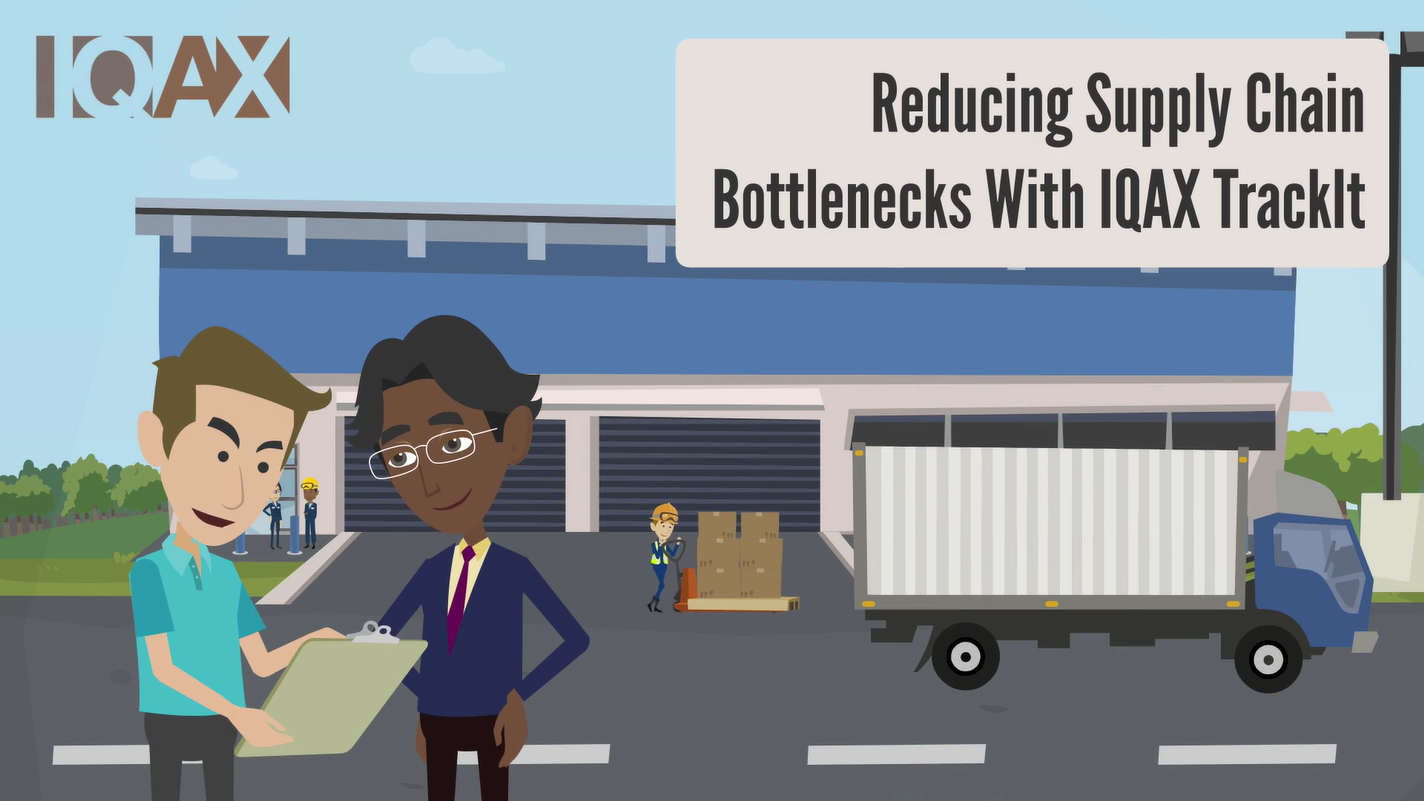 Reduce Supply Chain Bottlenecks
A large sporting goods exporter requires detailed, real-time insights to identify bottlenecks in the cargo flow and prioritize follow-up actions.
IQAX Tracking Link provides a unified source of information and allows shippers to track active shipments on a map and communicate with partners through a shareable URL or Microsoft Teams platform. The innovative solution gives you control over complex global supply chains and helps you reduce or eliminate bottlenecks with trusted data on shipments.
Share active shipment information with your trading partners on an interactive map
IQAX Tracking Link lets shippers track active shipments on a map and share information with your trading partners. The pre-built UI allows shippers to easily extend visibility to customers and vendors for the latest shipment status, alerts, route details, and position on a map to save time communicating shipment updates and improve customer service.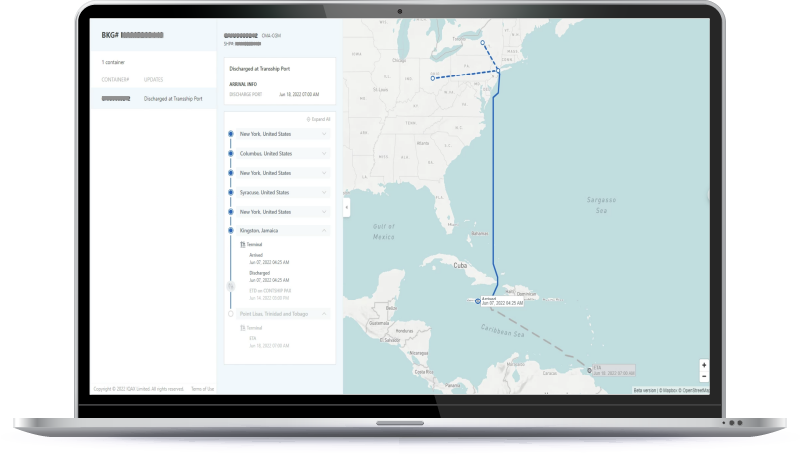 Information That is Easy to Share
---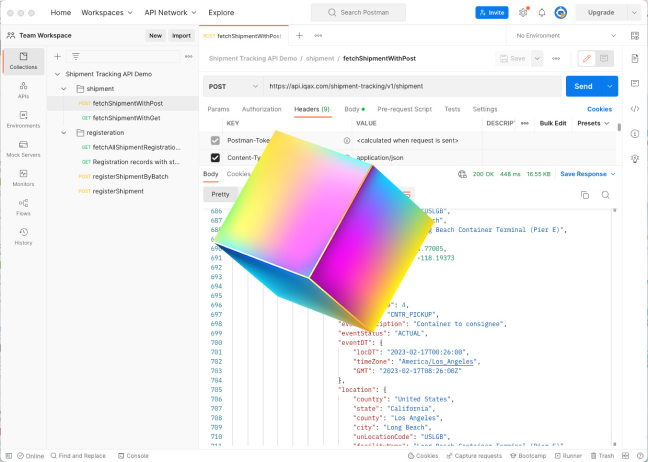 Greater Agility
Full subscriptions allow complete access to IQAX Tracking Link API and IQAX Shipment Tracking API, as well as the Microsoft Teams App, giving users the ability to extend their visibility into data about shipment progress, and generating data that developers can use to generate solutions to inform their operations.
Accessible Shipment Data
Shipment-specific tracking links facilitate fast and convenient access to an innovative solution that allows users to access and share shipment route and milestone details for each leg of a journey.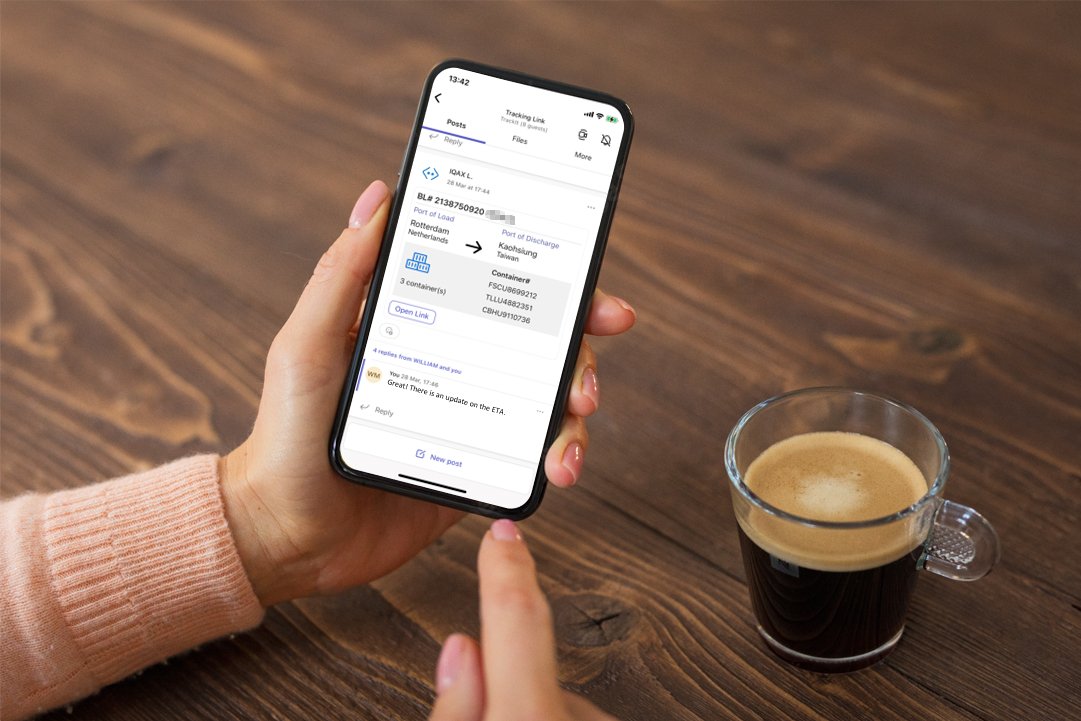 Easily Share Shipment Routes and Location
Access an interactive view of in-transit shipments.

View and share the latest schedules and container milestones.

Access data on shipment delays and route changes.

Improve business agility through better collaboration.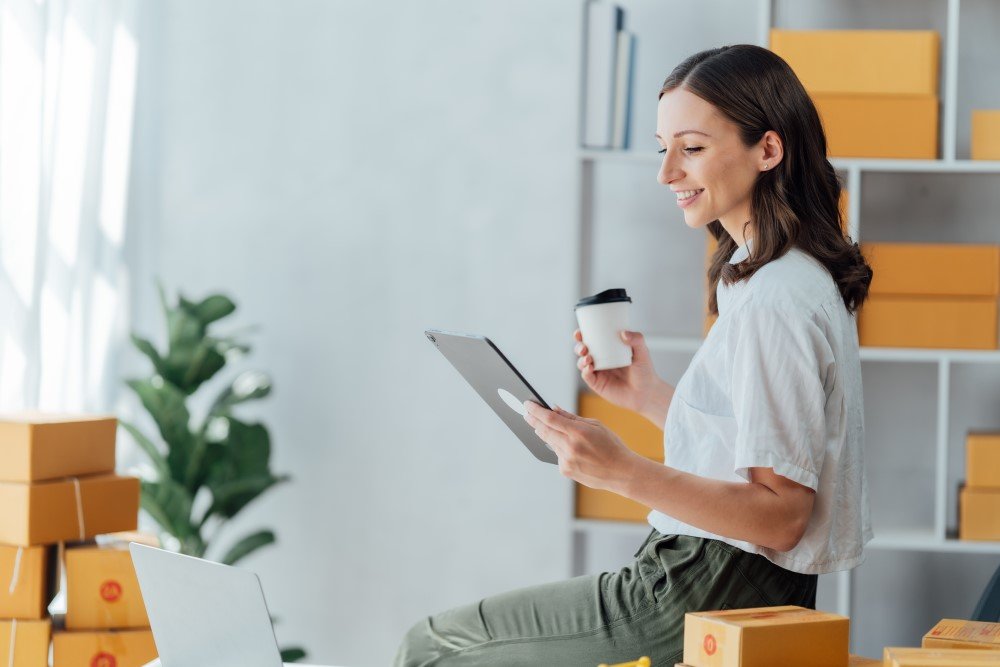 Illuminate Customers' Visibility
 
Improve communications and customer service.

Discover exceptions early to take corrective action and mitigate risks.

View routes, maps and shipment status.

Share information through Microsoft Teams or a simple URL.

Save Time and Mitigate Risks
 
Easily extend visibility without sharing sensitive data.

Save time determining and sharing the actual status of shipments.

Hybrid model ensures quick visibility for customers via Microsoft Teams while giving IT the ability to create more comprehensive solutions.
Access and Share Shipment Data With Ease
---
IQAX Shipment Tracking API
---
IQAX Shipment Tracking API gives shippers access to shipment routes and event milestones. It makes enhanced shipment updates accessible to your systems and makes it possible to create new apps to optimize supply chain planning and analysis.
Trusted and Active Shipment Data
---
Intelligent Insights
Combining shipment data from multiple sources and filling in gaps, the API provides a unified data model. With both original and harmonized versions, you can follow up with your carriers to investigate discrepancies.
IQAX Shipment Tracking API provides predictive ETDs and ETAs that can alert you to updates requiring attention and help you improve planning, access information on container events, changes to routes and vessels, ATDs and ATAs.
Active Shipment Information Data
Shippers need a continuous flow of information to make their operations smoother and alert customers about ETDs and ETAs or any delays that might arise, but accessing complete and timely data can be a time-consuming process.
The IQAX Shipment Tracking API gives users access to complete and comprehensive data that can extend their visibility into their shipments, including real-time status, alerts, changes to route details, and more.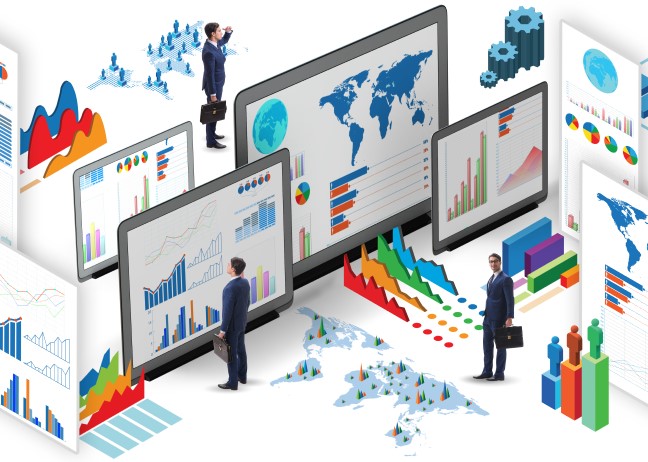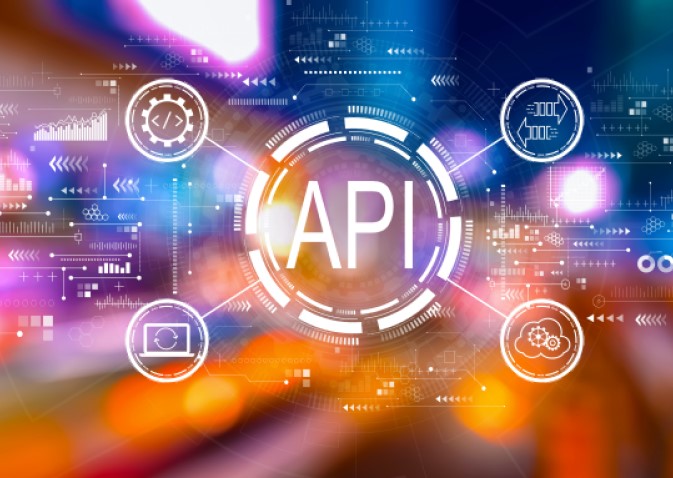 Empowering Developers
IQAX Shipment Tracking API allows users to extend their visibility into data on shipment progress and locations, which in-house developers can use to generate solutions that inform their operations.
The API relies on RESTful (Pull) in conjunction with a Webhook (Push) method to access updates of shipment status. The solution provides original booking carrier data together with an enriched version from a digital twin engine.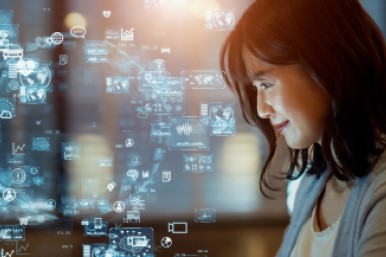 Enhanced Shipment Updates
 
Integrate visibility data with your TMS and ERP systems, saving time consolidating and entering data.

Combine tracking data with your own data in reports and analyses.

Reduce effort consolidating multiple sources of data.

Tap into a powerful prediction model to access ETAs and compare them with original data sources from shipping companies.

Increase ETAs by an average of 20-30%, helping customers to better plan the use of logistics and resources for last mile delivery.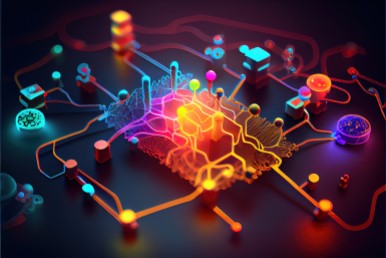 Fuel Your Systems with IQAX Shipment Tracking API
Shipment route and milestone details.

Predictive data on vessel departure and arrival

Detected ATDs and ATAs for each leg of the journey.

Access the most up to date truth related to shipment routing and associated vessels.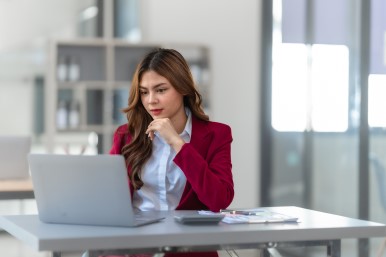 Boost Your KPIs with Enriched Data
Gain control over complex global supply chains and remove bottlenecks.

Make faster, more accurate decisions.

Evaluate supply chain efficiency and performance.
Comprehensive And Updated Shipment Data
---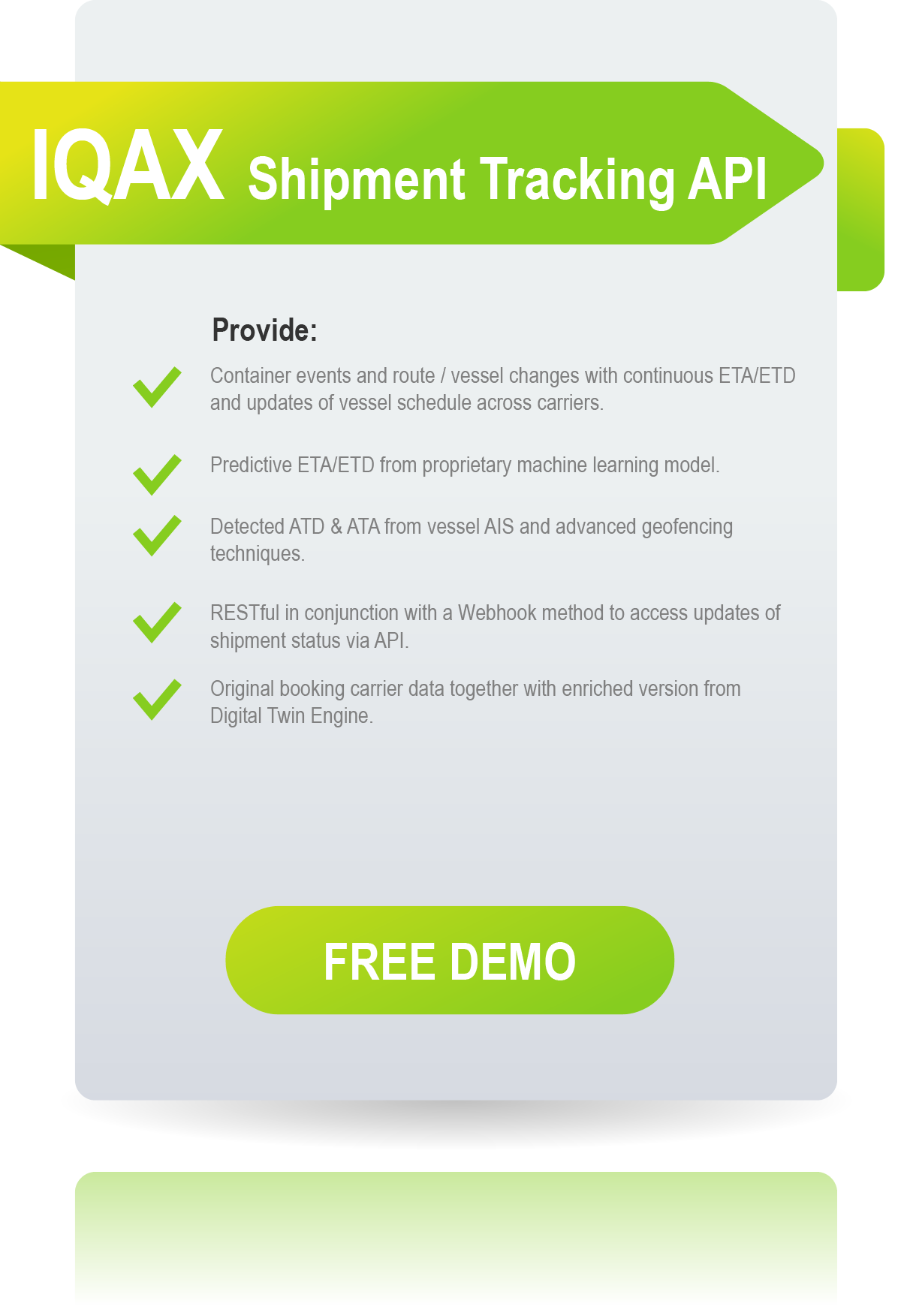 Mitigating Risk in Ocean Shipping: A Supply Chain Executive's Action Plan
Real time visibility into where shipments are, where they are going and when they will get there is key for shippers to minimize and mitigate risks to supply chains brought about by shortages, climate change, labor scarcities and pandemic fatigue. A high level of visibility is also key for CSCOs and other executives to maintain the integrity and efficiency of their operations. According to the 2021 Gartner View from the Board of Directors survey, six out of ten boards of directors of manufacturing companies ramped up digital initiatives to address disruptions caused by the COVID-19 pandemic.
Download our white paper to tap into powerful digital solutions for transformative visibility to better deal with unexpected disruptions and eliminate blind spots in increasingly complex supply chains.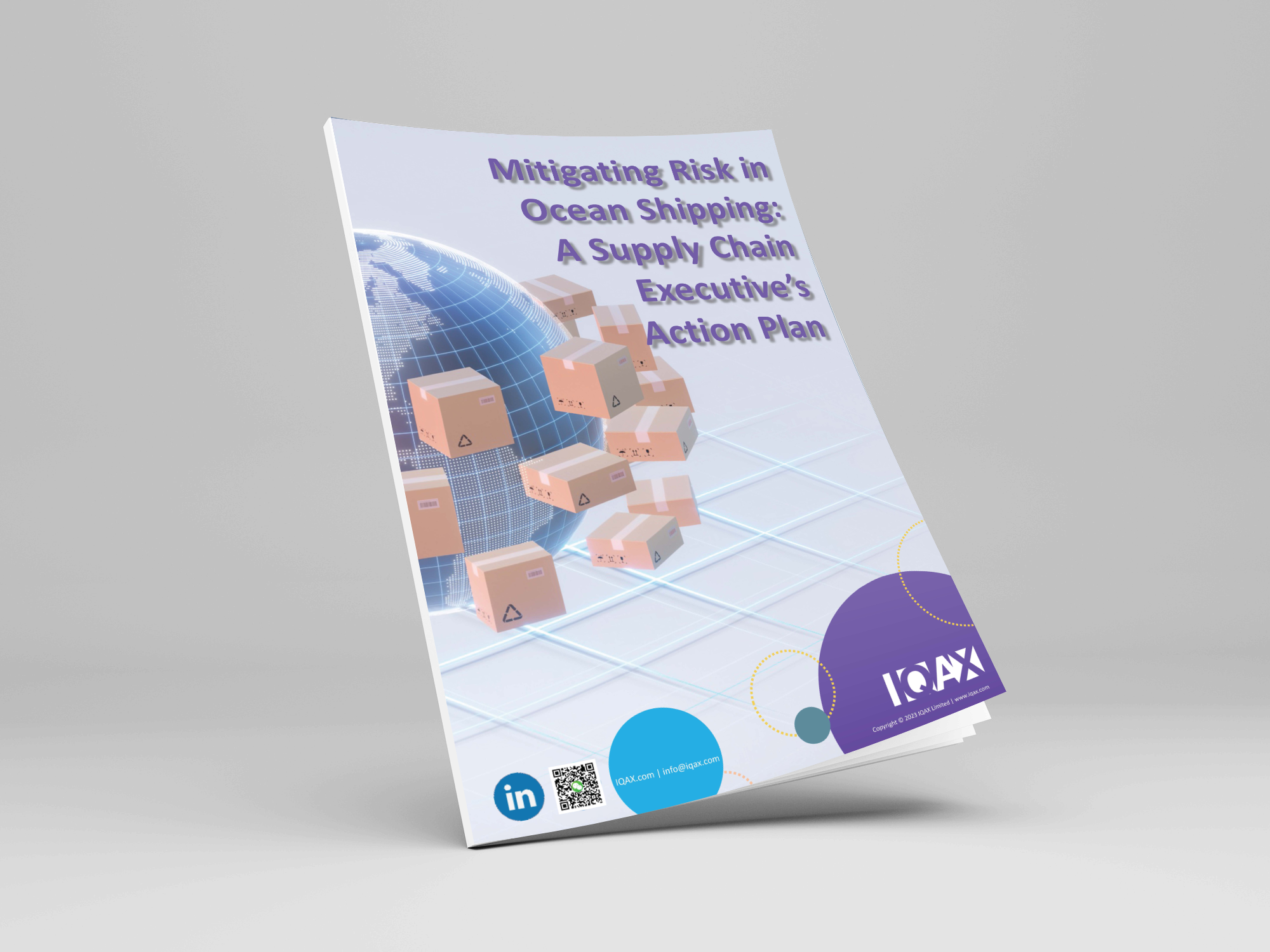 Digital Twin: The Technology of the Future in Shipping and Logistics
A digital twin is essentially a virtual simulation of real-life situations that can generate countless scenarios to fill gaps in data and help with planning and proactively overcome challenges. A May 2022 study by IQAX found that the use of prediction models increases the accuracy of estimated times of arrival by an average of between 20% to 30%. By using a digital twin, IQAX TrackIt gives users access to significant improvements in terms of data and information compared to only using an electronic data interchange (EDI).
Download our product sheet to learn more about the application of powerful simulation technology and how it can support shippers and logistics providers to address multiple pain points.