Seeking Bright Spots in the Low Schedule Reliability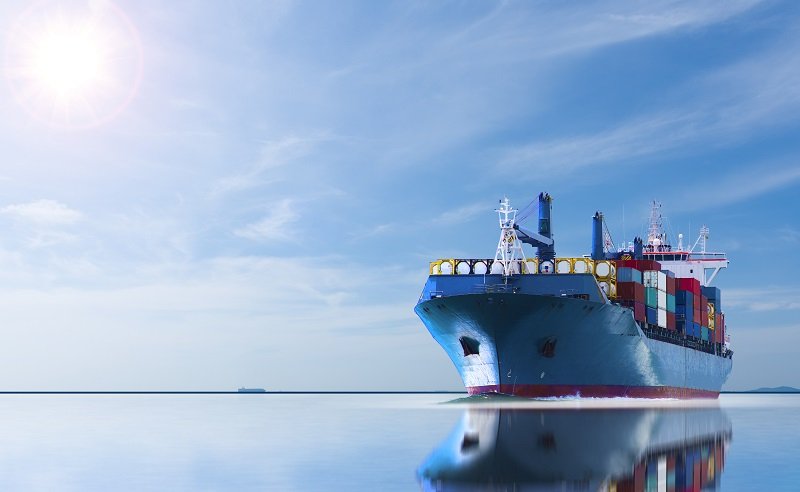 While overall schedule reliability was 25% in Q2 2021, vessels traversing South America and Central America trade lanes led the pack for reliability.
➔ Sign up for our newsletter to receive IQAX insights as we publish them
Schedule Reliability Hovers at 25% in Q2 2021
Three years ago, quarterly schedule reliability was about 68% among the top ocean carriers. This meant that about 68% of the time vessels arrived at their destination port within 24 hours of the ETA indicated in the sailing schedule at the time the vessel departed from the Port of Load (POL). At the time, the schedule reliability was considered quite low and it started to recover in mid-2019.
Then, leading up to the pandemic in Q1 2020, schedule reliability started to drop further. Slow steaming, ultra large vessels, extreme weather, and fully laden vessels were all possible contributing factors.
And finally, the commencement of the pandemic in 2020 added to the challenges of keeping vessels on schedule with increased inspections, vessel quarantine rules, and fluctuating labor availability at terminals due to COVID-19 outbreaks and lockdowns.
Here's a chart of the quarterly schedule reliability for the last year, based on IQAX Big Schedules data: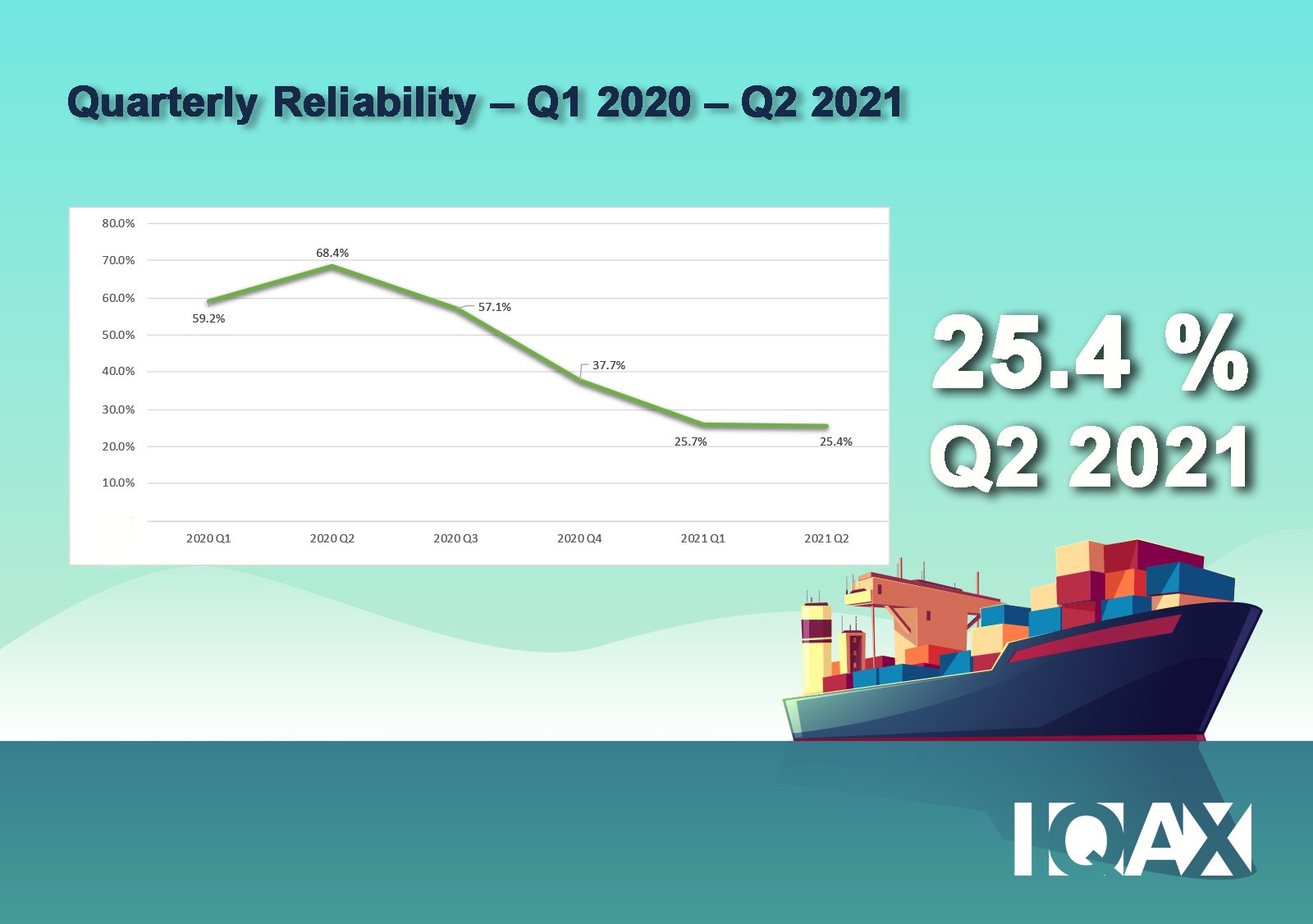 As you can see, schedule reliability plummeted in Q4 2020, and it has not yet recovered as of Q2 2021. The second quarter overall schedule reliability this year was at a new low of 25.4%. While reliability has been so low, were there any bright spots? We analyzed Q2 reliability by trade lanes, port of discharge regions, and carriers to find out.

South America and Central America Shine with Higher Reliability
By trade lanes, North America East Coast-South America, Intra-South America, and Central America-North America East Coast had the highest schedule reliability among the 20 trade lanes we reviewed. While no trade lane had reliability over 65%, the South America and Central America trades were in general more reliable than the other trades. The Suez Canal blockage in March and the closure of terminals in Yantian in June likely did not help the schedule reliability on the trans-Atlantic and trans-Pacific trade lanes.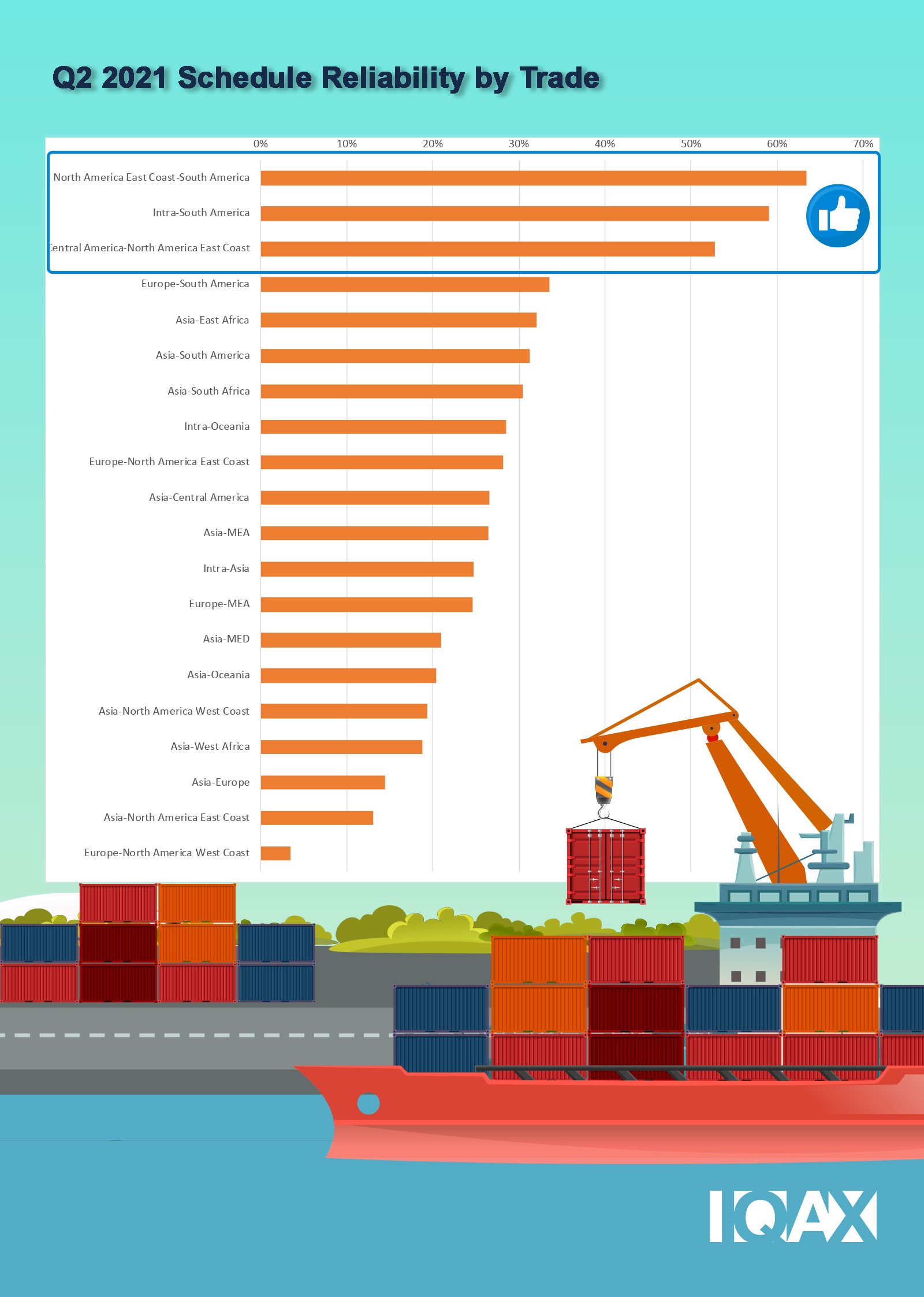 In fact, when we reviewed the schedule reliability by port of discharge region, South America and Central America had the highest overall reliability. They were the only regions with average schedule reliability over 40%, revealing the severe impact on reliability from incidents in Asia, Europe, and North America.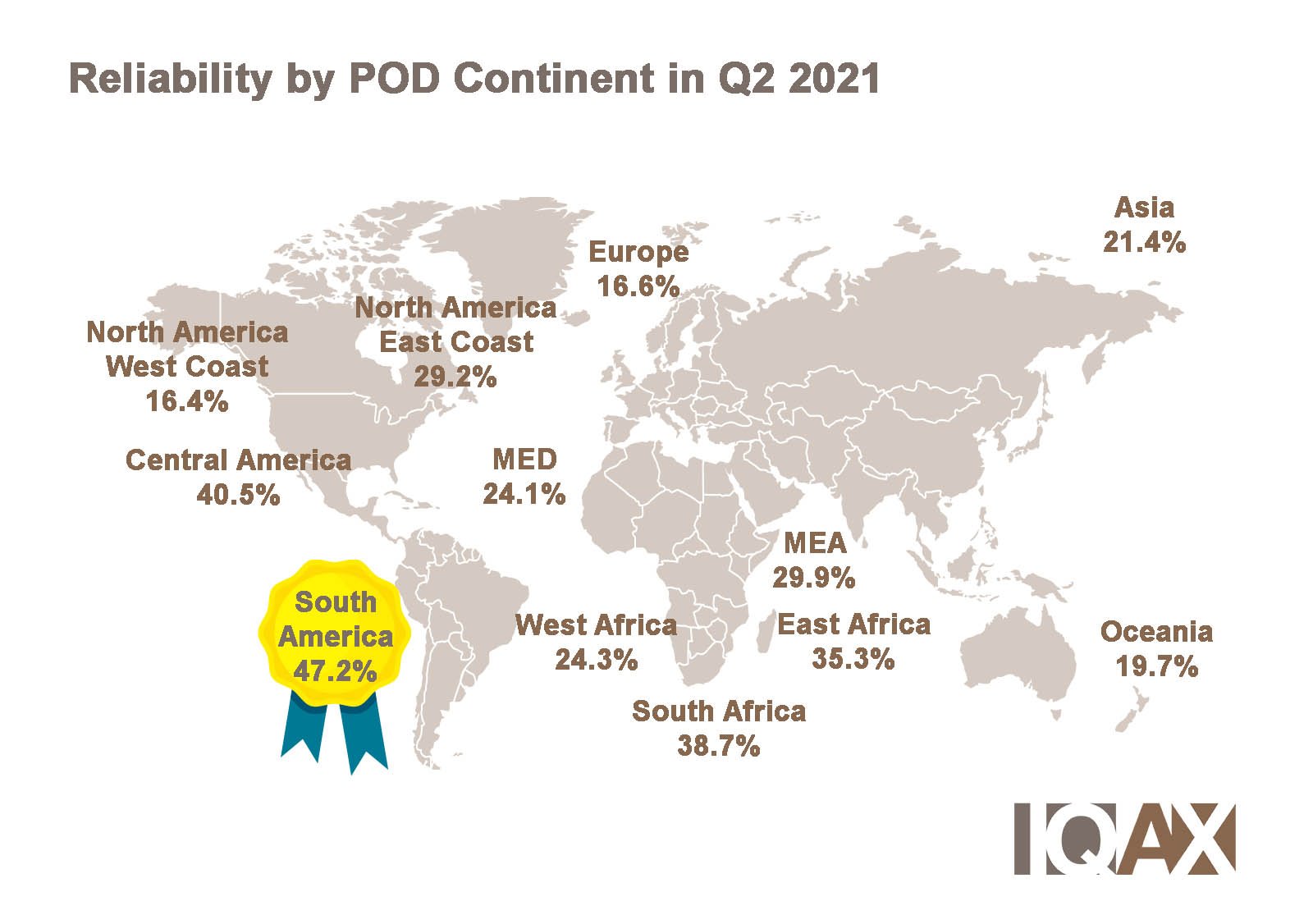 Reviewing overall schedule reliability by 20 key carriers, reliability ranged from 19.5% to 31.1% as they struggled to keep schedules on time during the disruptions.

Schedule Reliability by Port Pairs and Carriers for Shipment Planning
While aggregate schedule reliability can be helpful to see recent high-level trends, drilling down by specific port pairs can help you see the recent performance of each carrier on your shipment routes. Insights by port pair allow you to compare different port pair options for shipment planning and to benchmark your shipment's performance with recent market performance.
IQAX offers Big Schedules Carrier Performance Analytics, an interactive dashboard for subscribers to look up transit time reliability by port pairs and compare carrier performance. Register for an IQAX Big Schedules account to test drive the interactive dashboard.
Related Topics: