5 Ways to Extract Value from Ocean Shipping APIs
Wondering how to use sailing and vessel schedule data? We share five examples of how shippers and NVOCCs can use schedule APIs to streamline operations, save costs, and optimize their supply chains.
➔ Start your free trial of schedule APIs
Sailing Schedule and Vessel Schedule API Use Cases
While you may be familiar with sailing schedule and vessel schedule APIs, you may be wondering how exactly you could use them in your company. APIs allow you to call on-demand quality schedule data and feed it to your in-house system for analytics dashboards and enterprise systems.
That's very broad! The way each shipper and logistics service provider uses the data is slightly different. The beauty of the APIs is that you can design apps and incorporate the data the way you want.
Shippers and logistics service providers have been integrating schedule data through APIs from IQAX Big Schedules since 2017. And, we have spotted a few stand-out applications and types of companies that are benefiting from the APIs.
BCOs and NVOCCs Benefit from Schedule APIs
The great news is that sailing schedule APIs and vessel schedule APIs can help both beneficial cargo owners (BCOs) and non-vessel operating common carriers (NVOCCs). We will share a use case for each. That said, APIs help companies the most that have a high volume of shipments to manage. If looking up schedules from multiple sources is unwieldy, then automation is the first step to streamline operations and provide the foundation for analysis.
Sailing Schedule and Vessel Schedule API Data Elements
Ocean carriers' published sailing schedule data is ideal for planning and making bookings. Sailing schedule APIs provide the route information for schedules that are offered by carriers to move cargo from the port of origin to the final destination. You can specify the port of receipt and final destination mandatory input parameters, as well as other optional input parameters such as earliest/latest departure date, earliest/latest arrival date, and carriers.
Vessel schedule data, on the other hand, provides information about a vessel's schedule after it has set sail. It is ideal for monitoring shipments as they reach their final destination. One can query a vessel's schedule to see when it is expected or actually arrived within a specified timeframe. Vessel schedule API data includes the carrier, vessel details, the ports, and the ETD, ATD, ETA, and ATA for each port call in its journey. It will also indicate if a port call was skipped.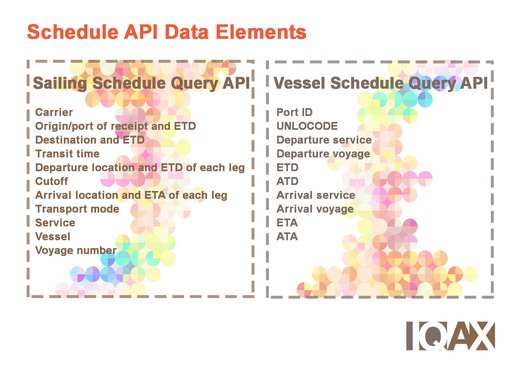 Other key differences between sailing schedules and vessel schedules are that sailing schedules are based on a port pair and can include transshipment ports, while vessel schedules are simply the vessel's schedule during a specified time range. Sailing schedules include estimated times of arrival and departure, while vessel schedules can also include actual times of arrival from the carriers and be supplemented from the Automatic Identification System (AIS).
Unlocking Value from Ocean Schedule APIs
Keeping up with the latest sailing schedules and looking up the latest vessel statuses are especially tricky these days with so many schedule changes occurring due to port congestion, route changes around the Suez, and port strikes.
However, some savvy logistics managers are leveraging schedule APIs to digitalize their processes and enhance their operations.
Wondering what you could do with this data? Here are five great ways you can use schedule APIs for your business. We have named the API use cases so that they are easier for you to remember (and have a little fun!).
1. The BCO Route Climber
What you need: Sailing Schedule APIs
Why you want it: Take your shipment route planning to the next level by optimizing schedule selections based on your parameters.
How to use it: Automatically pull all possible sailing schedule data by your port pairs and ocean carriers into your internal app daily for route planning and optimization.
Results: Save time looking up and filtering schedules by your port pairs and preferred carriers by having it in a central location for your company to access. Then, with your app, determine the routes to make bookings on that optimize based on your preferences for ports, transit times, departure times, arrival times, as well as your supporting information such as minimum quantity commitments and rates.
2. The BCO and NVO Booking Genius
What you need: Sailing Schedule APIs
Why you want it: Save time by accessing the latest schedules directly from your system.
How to use it: Pull sailing schedule data daily into your in-house system for your operations team to look up current schedules available for bookings.
Results: Save your logistics team hours each week looking up possible schedules and making bookings by having the most current schedules available through your internal platform.
3. The BCO Vessel Buster
What you need: Vessel Schedule APIs
Why you want it: Zap wasted time searching for the latest expected arrival times, and view arrival status updates from your system.
How to use it: Feed vessel schedules, that include ETDs, ATDs, ETAs, and ATAs for each port call, into your system daily. Pull only the information for each vessel that is in transit with your shipments.
Results: Easily look up expected arrival times, spot skipped port calls early, know actual arrival and departure times so that you can minimize costs due to possible delays, improve cash-to-cash cycles, and optimize your supply chain planning.
4. The NVO Business Expander
What you need: Sailing Schedule APIs
Why you want it: Quote customers fast with up-to-date and relevant schedules.
How to use it: Pull schedules of your port pairs and carriers hourly to have the latest schedules available in your system for your operations team. Then, display available schedules with rates for generating quotations for customers through your website.
Results: Save countless hours each day looking up, consolidating and updating sailing schedules for your in-house system, so that you can scale your business.
5. The NVO Vessel Illuminator
What you need: Vessel Schedule APIs
Why you want it: Allow your customers to see vessel departure and arrival status based on their shipments.
How to use it: Pull vessel schedule data into your system daily to monitor vessels with your shipments on-demand, and then enable this visibility for your customers.
Results: Save operations costs and improve customer service by allowing customers to look up where their shipments are through your platform rather than calling or visiting multiple websites. Internally, detect skipped ports and ETA changes so that you can work with carriers and your customers to implement alternate arrangements.
Getting Started
Armed with these ideas, how can you use schedule APIs to improve your operations? Feel free to contact us to speak with our experts, or sign up for a 14-day free trial of IQAX Big Schedules APIs to start experimenting.
Want more use case ideas? We will be releasing a white paper with even more scenarios. Sign up for our newsletter to receive a link to the white paper as soon as it is published.
Related Topics:
Understanding Sailing and Vessel Schedule Data