Understanding Sailing and Vessel Schedule Data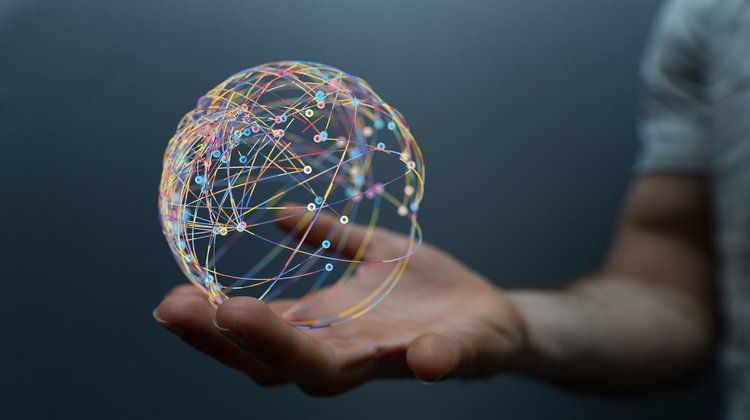 Where does your schedule data come from, and how good is your data, especially when schedules are changing so rapidly? Finding the answers to these two questions empowers you to know the limits of your current data sources and the opportunities you may unlock in new sources of data.
➔ Try IQAX Big Schedules Today
Planning and Finding Your Ocean Cargo in the Supply Chain
When the New York Times covers global shipping and how extreme the delays are for imports and exports, you know something big is happening in shipping. Even mom and pop retailers are learning about the intricacies of global logistics as they figure out how to fill gaps on their shelves, hurry backorders, and locate their inbound electronics, specialty foods, or the latest designer face coverings.
A year into the pandemic, supply chains are still not running smoothly. While demand for cargo space has been strong into the US, it has had a ripple effect around the globe as ocean carriers make adjustments to fill demand and keep vessels on schedule throughout its entire vessel voyage.
In shipping and logistics, we need better visibility to plan, mitigate risks in the supply chain, and respond when disruptions happen. We want to know schedules farther in advance to secure a booking, we want to know exactly when the vessel departs to implement billing cycles, and we want to know when cargo has been discharged at ports to prepare to connect it to distribution centers, factories, and customers. Shippers look to their internal ERP and TMS systems, online carrier applications, terminal portals, and truckers for the latest status of their cargo.
The Call for Sailing Schedule and Vessel Schedule Data
Behind all the planning and visibility apps for ocean shipments is data. Sailing schedule data provides information for you to plan for future bookings, while vessel schedule data provides insights for you to plan for arrivals once the vessel has set sail. When the data is good, you can trust it to compare schedules, make bookings, plan, track, analyze performance, and communicate timely updates to your customers. If it's bad data, you could plan based on outdated or missing information that could have costly consequences.
Yet, the more carriers' sailing schedules change, the more you want frequently updated schedules to have access to the latest and it can be more challenging to manage. In Q4 2020, less than half of all schedules arrived within a day of their ETAs, reflecting frequent schedule changes and vessel arrival delays. And, when schedules are changing so rapidly, it makes the quality of your data even more apparent.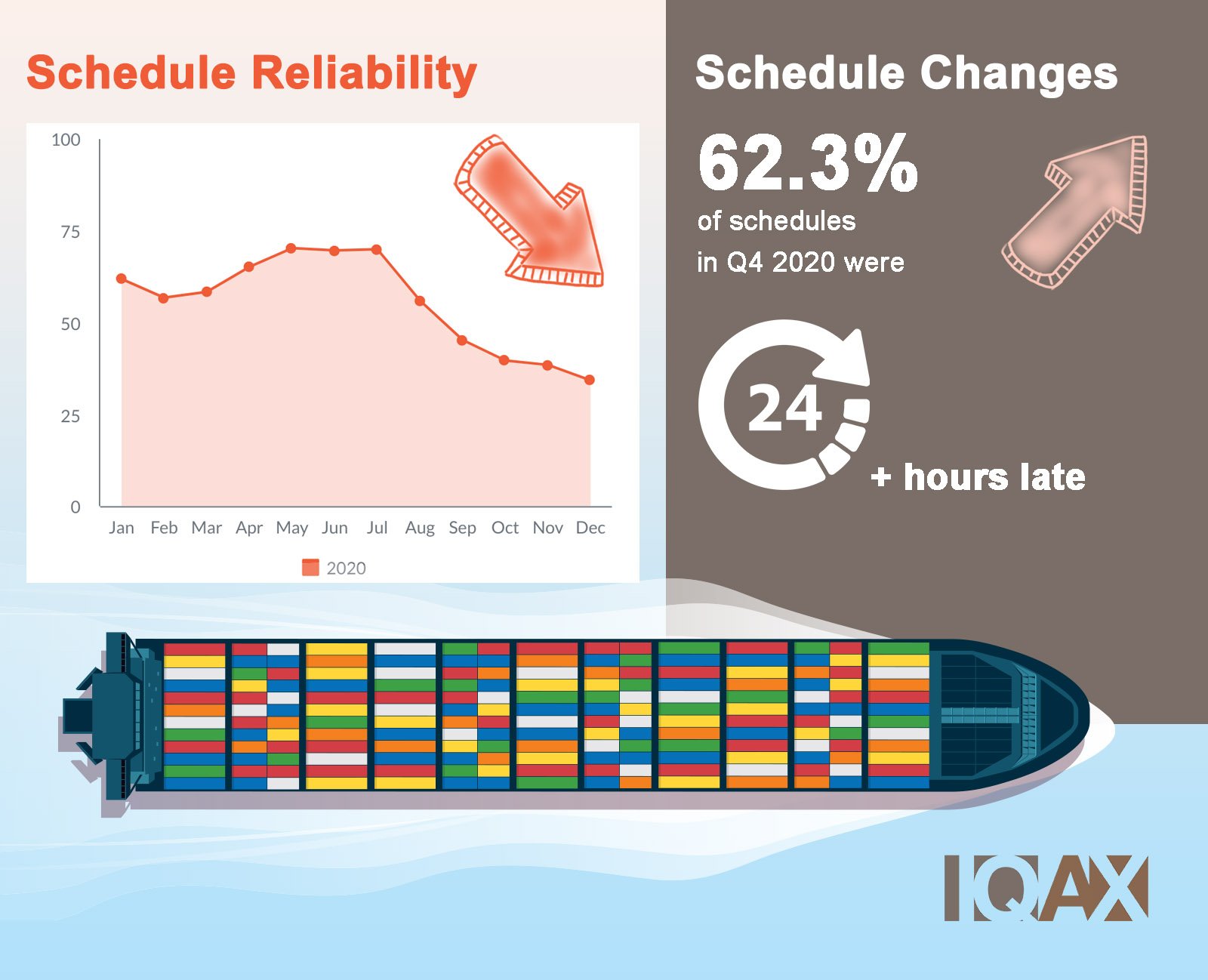 With a quick search online for a sailing schedule from a single carrier, you can find multiple results for the estimated and actual times and dates of arrival and departure. Factors for the variations can include:
• What is the original source of the data?
• Is it accurate?
• Is it missing information?
• When was it last updated?
• Has it been verified?
• Has the data been cleansed?
Finding out the answers to these questions empowers you to know the limits of your current data sources and the opportunities you may unlock in new sources of data.
Understanding Your Schedule Data for APIs and Apps
To dive in and understand your schedule data or data you are considering accessing, first determine its original source. Three original sources of information are ocean carriers' EDI or API messages with updates, ocean carriers' websites, and live vessel location information from AIS.
Often when we think of data quality, we think of how timely, accurate, and complete the data is. This is a start. AIS with nearly real-time updates provide continuous data streams of vessel location, direction, and speed. AIS data can provide an ATD or ATA before a carrier has time to update their customers with the information.
Next are the carriers' systems. Once carriers receive updates from the vessel captain or the vessel operator, they can update their systems and trigger updates on their websites and update customers and partners through EDI updates. EDI message data can be incomplete or triggered long after a key milestone has occurred. While carriers can easily update schedules on their websites when there are updates or if discrepancies are found, EDI messages may be delayed.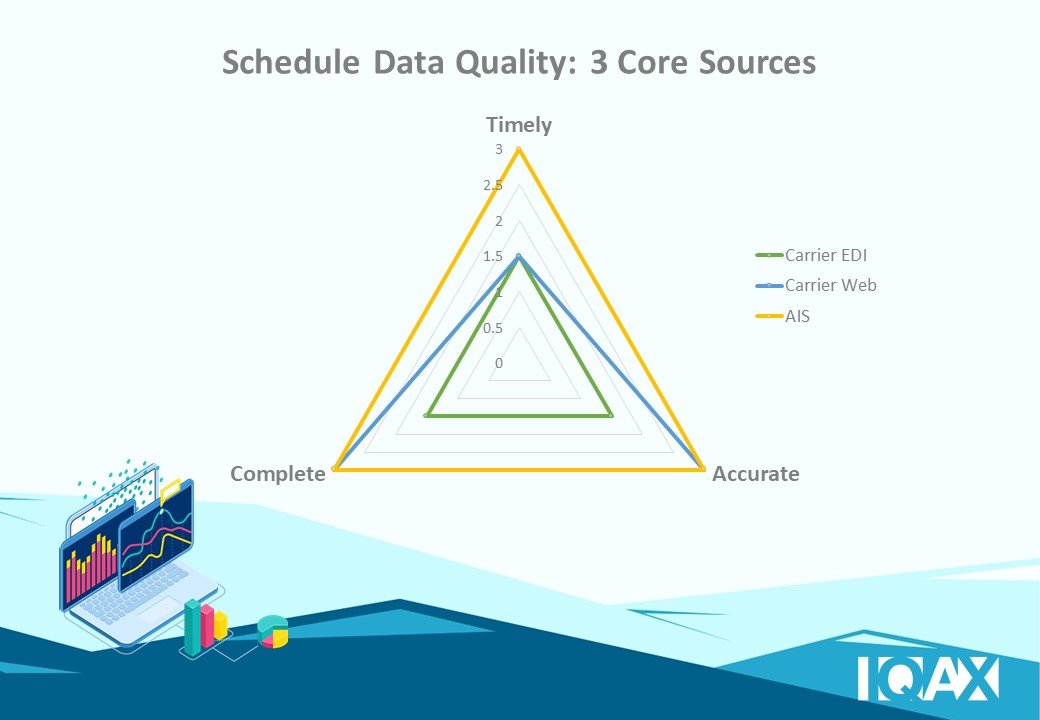 When accessing an original source for sailing schedule and vessel schedule data, it can be a vast ocean of data to manage. From managing millions of continuous updates, reconciling data from multiple sources, and cleansing data if it's not in a proper format or complete information to integrate with your in-house systems.
A schedules data service provider can do the heavy lifting for you to determine the latest updates, rationalize the data, and contact carriers directly to look into discrepancies.
Tips for Choosing an Ocean Schedule Data Provider
With better data, you can have the confidence to integrate it through schedule APIs to generate value through your in-house enterprise systems and dashboards, or when you use ready-built apps based on schedule data such as IQAX Big Schedules Analytics.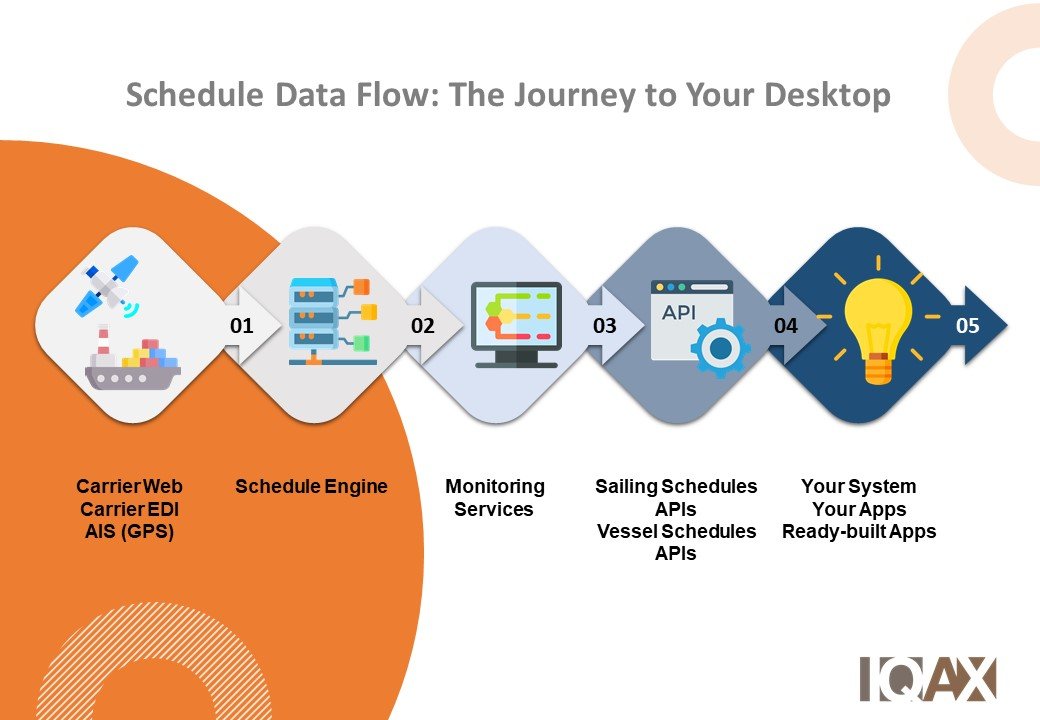 While most providers of schedule information display the same standard elements, analyze where the data comes from and how it has been enhanced. Look for a provider that serves the best data to help you plan and avoid costly mistakes.
Select providers that are:
• Timely - How often do they update their schedule data from the original source? What is the latency from the time they receive it from the original source and provide it to you? Are they receiving the data from a third party that adds additional time to your updates?
• Accurate - Are multiple sources cross-referenced to determine the latest data from the carrier for sailing schedules and vessel schedules? How does the data compare to the data displayed on your carriers' websites?
• Complete - Was there a disruption to the transmission of schedules from a service provider? Does it cover all your major carriers and ports? Are data updated and augmented for vessel schedules to provide a complete picture of skipped ports, ATDs, and ATAs?
• Proactive - Does your provider use machine learning and AI algorithms to detect deviations from historical patterns of schedules to anticipate exceptions and then reach out to carriers to verify and update data?
Choose wisely! Consider how you will be using the sailing and vessel schedule data for your planning, analysis, and customer service. Even if sailing schedules are changing all the time, depending on how you use the data, it is still useful to have the most current data and even look online at its location in real-time to make decisions.
While it's hard to predict schedule changes due to full ships, port congestion, and schedule adjustments to catch up with delays, you can control the data source you get your most recent data from, as well as implementing risk mitigation strategies and working with your carriers and logistics service providers to stay on top of changes once you have the insights.
Ramping Up Your Schedule Data with Intelligent APIs and Apps
If you are seeking to elevate your schedule data, whether through APIs to send to your internal systems or to use for stand-alone applications, or you seek an online platform to check the latest schedules in one place, IQAX offers IQAX Big Schedules.
IQAX Big Schedules has been providing schedules since 2015. From the start, IQAX Big Schedules has implemented a number of strategies to have the data be the best quality possible. IQAX Big Schedules acquires the schedule data from the carriers and AIS, has accumulated over a decade of data and experience from which to run algorithms to detect data exceptions, and uses a digital twin to augment vessel schedules with known information from AIS and alliance carriers that may not be in carrier-provided vessel schedules.
IQAX Big Schedules does the hard work for you so that you can access the data with confidence and ease for your shipment planning, execution, and integrating it with your innovative applications.
Learn more about IQAX's shipment planning solutions for sailing schedule and vessel schedule data and applications.
Related Topics:
The API Advantage for Sailing Schedule Integration